Crónica del Festival de Sitges 2016: Día 8
Viernes, 14 de octubre
Nos despertamos con tiempo, desayunamos decentemente y vamos a hacer cola en Auditori. De buena mañana vamos a por una de las más esperadas, competidora dentro de Secció Oficial Fantàstic Competició 49: The neon demon (Nicolas Winding Refn, Estados Unidos, Francia y Dinamarca). Como nos informaron días antes, Refn estará ausente durante todo el día, sin poder presentar las películas que ha traído. Pero un pequeño, divertido personal vídeo introductorio nos abre paso a la proyección. Las expectativas y previsiones son casi inevitables, tanto para los fans acérrimos del autor como para sus mejores detractores. Y nada más apagarse las luces, el ambiente dentro de Auditori se transforma.
Primero, a través de la música y muy poco después, mediante la imagen. Ritmos electrónicos y fotografías bellas, frías o tiernas, nos arrastran hasta el ambiente siniestro de una ciudad de Los Angeles que creemos conocer. Durante dos horas tenemos la vista fija en la pantalla. Es muy probable que ya conozcamos el discurso de la historia que se nos muestra, pues podemos estar familiarizados tanto con el superficial mundo de la moda como con la lucha eterna por poseer una belleza inalcanzable. Es con todas las herramientas disponibles, además de música y fotografía, con lo que Refn nos hipnotiza. Los diferentes aspectos de la feminidad y la masculinidad, representados por el diverso reparto, y los evidentes detalles simbólicos enriquecen una sencilla historia para hacer de esta un bello retrato sobre la caza y obsesión de la belleza física. Oímos quejas de que todo parece un homenaje a la actriz principal, mostrándola constantemente. Pero es que hay intención hasta en la elección de la artista que suena durante los créditos finales.
Tras dejar que nos dé algo de aire fresco para recuperarnos, vamos por segunda vez a Tramuntana para ver La región salvaje (Amat Escalante, Dinamarca, México, Francia y Alemania), de la sección Noves Visions One. Con el área rural de México como escenario, la producción nos presenta un drama con varios personajes con vínculos familiares. Cada uno tiene sus propios deseos reprimidos, tanto emocionales como sexuales, y para reconocerlos y aceptarlos entra en sus vidas una misteriosa mujer. Y una misteriosa criatura. Escalante rompe más tabúes a través de un fantástico que se acerca más al realismo mágico. Las relaciones tóxicas, la sexualidad reprimida y el ansia de placer son los principales temas que vemos en una película que, para variar, ya ha sido tildada de provocadora, morbosa e incluso homófoba.
Regresamos a Prado para la última sesión de Red Planet Marx: Test pilota Pirxa/El test del piloto Pirx (Marek Piestrak, Unión Soviética, 1978). En esta ocasión estamos ante el ya habitual argumento de "descubrir quién es un robot". El piloto espacial Pirx es el encargado de tal tarea durante una misión, pero al poco tiempo de comenzar la prueba, comprobamos que el nivel intelectual de los personajes va más allá de los típicos engaños y giros de guión en el último momento. La supervivencia personal o el altruismo son las dos caras que encontramos en la tripulación. Y nos place bastante ver esta combinación, necesaria y poco a poco más ausente, entre ficción científica y moral. Lejos de tener una conclusión basada en la acción, se debate acerca del por qué de los actos del protagonista.
Hoy tampoco nos perdemos la Seven Chances, que en esta ocasión es una retrospectiva presentada por Nicolas Winding Refn: Terrore nello spazio/Terror en el espacio (Mario Bava, Italia y España, 1965). Refn ha dirigido la restauración y nos la ofrece, vía vídeo, como un regalo. Volvemos a ver un precedente, pues tanto a nivel narrativo como visual, encontramos numerosos elementos que nos recuerdan a Alien (Ridley Scott, Estados Unidos, 1979). Tenemos en cuenta su contexto, año y países de producción, y disfrutamos de un clásico tapado por otros clásicos. Incluso vemos como ventaja el estilo de la década, teniendo como resultado una fotografía que combina colores chillones y sombras por doquier. Una historia terrorífica de ficción científica con un final al más puro estilo The twilight zone.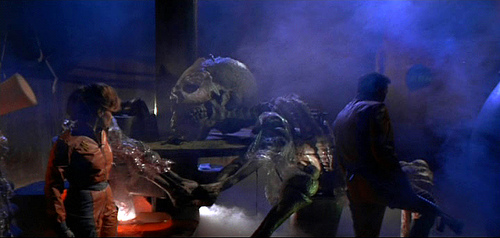 Teniendo libre la noche, salimos para encontrarnos con compañía para charlar y beber, pues el festival se acerca a su fin y tenemos mono de debatir alegremente. Como si fuera lo más normal (en este caso lo ese) a la 1:00 nos encontramos a Dolph Lundgren (Rocky IV, The punisher) en la alfombra roja, yendo a recoger su premio Màquina del Temps. Y es que en cada cine empieza una maratón distinta, en las cuales hay películas que nos perderemos sí o sí, pues la mayoría son de las secciones Midnight X-Treme y Panorama Blood Window. El cine no descansa.