Crónica del Festival de Sitges 2016: Día 5
Martes, 11 de octubre
Hoy es un día largo. Y asiático. 8:15, entramos en Auditori para ver una de las películas más esperadas del festival,
Agassi/The handmaiden/La doncella
(Park Chan-wook, Corea del Sur). Otra de las pocas participantes de la
Secció Oficial Fantàstic Competició 49
que veremos. Park adapta la novela inglesa
Fingersmith
de Sarah Water y la ambienta en los años treinta del siglo pasado, durante la ocupación japonesa de Corea (el mismo contexto de
The age of shadows
). El planteamiento es de manual y huele a novela histórica erótica de bolsillo: Una joven de clase baja debe engañar a una dama japonesa, siendo su doncella, para que desee casarse con un tercer protagonista:
el Hombre
. Durante sus tres partes, prácticamente
todos los aspectos del film están muy cuidados y bellamente equilibrados
. Además de la dirección del autor, nos asombramos ante una música delicada, un diseño de arte precioso y detallista y unas interpretaciones muy humanas.
Pero a medida que la narración avanza, somos testigos de múltiples historias más.
Despertar sexual, guerra de poder y clases, un análisis del erotismo japonés y de la figura de la mujer en éste...
The handmaiden
utiliza una bella historia de amor y desamor para mostrar, de manera explícita, la comunicación a través del amor y, sobre todo, del sexo. Nos encontramos ante una de las películas de esta edición y nos es difícil dejar de aplaudir mientras Auditori se vacía.
Vamos hasta Prado para ver otra de
Anima't
:
Kimi no na wa./Your name is./Tu nombre es.
(Makoto Shinkai, Japón). La sala vuelve a llenarse de un público muy diverso y la magia empieza pronto. Tras unos títulos de crédito que parecen más adecuados a una serie que a una película, y que desvelan futuros giros de guión de ésta, nos presentan a una adolescente de pueblo y a uno de ciudad. En seguida descubren que, algunos días, sus cuerpos se intercambian. A partir de este momento
se plantea una relación muy especial
que, por suerte, deja en seguida a un lado estereotipos de género que preferiríamos que se omitieran a estas alturas. La historia avanza y avanza hasta alcanzar un clímax muy emotivo pero poco original, pues salvando algunos detalles, la estructura principal es demasiado similar a la de otra película asiática (con remake) que no mencionaremos por respeto al lector.
Nos quedamos en Prado aquellas personas excesivamente curiosas. Pues hoy empieza la sección
Red Planet Marx,
dentro de la habitual
Sitges Classics
. Cine soviético precedente de la ficción científica que tantos conocemos y creemos pionera. Para empezar bien, la primera sesión es doble y vemos
Doroga k zvezdam
/
Camino a las estrellas
(Pavel Klushantsev, Unión Soviética, 1957) y
Planeta bur
/
Planeta de las tormentas
(Pavel Klushantsev, Unión Soviética, 1923).
Camino a las estrellas
es un documental que nos enseña la historia de Konstantin Tsiolkovski, el padre de la cosmonáutica, y sus primeros estudios sobre un ascensor especial, más tarde rebautizado como cohete. El documental gira lentamente hacia la ficción cuando nos muestra cómo los soviéticos llegan a la luna de la Tierra para empezar a colonizarla. Queda en nuestro recuerdo su memorable frase "
La Tierra es la cuna de la humanidad, pero no se puede vivir en la cuna para siempre
".
Planeta bur
es ficción científica pura y dura, de esas de una tripulación bajando a un planeta desconocido, encontrando divertidos monstruos y misterios indescifrables. Pero
lo más destacable son los diseños de arte, que una década después influirían muchísimo
, desde en la (ahora no tan pionera) obra maestra
2001: A Space odyssey
(Stanley Kubrick, Reino Unido y Estados Unidos, 1968) hasta en la reciente
Prometheus
(Ridley Scott, Estados Unidos, 2012). Y nunca olvidaremos al robot que acompaña a los protagonistas, John, ni a sus respuestas haciendo apología a la libertad. Desde esta primera sesión ya agradecemos la existencia de esta sección.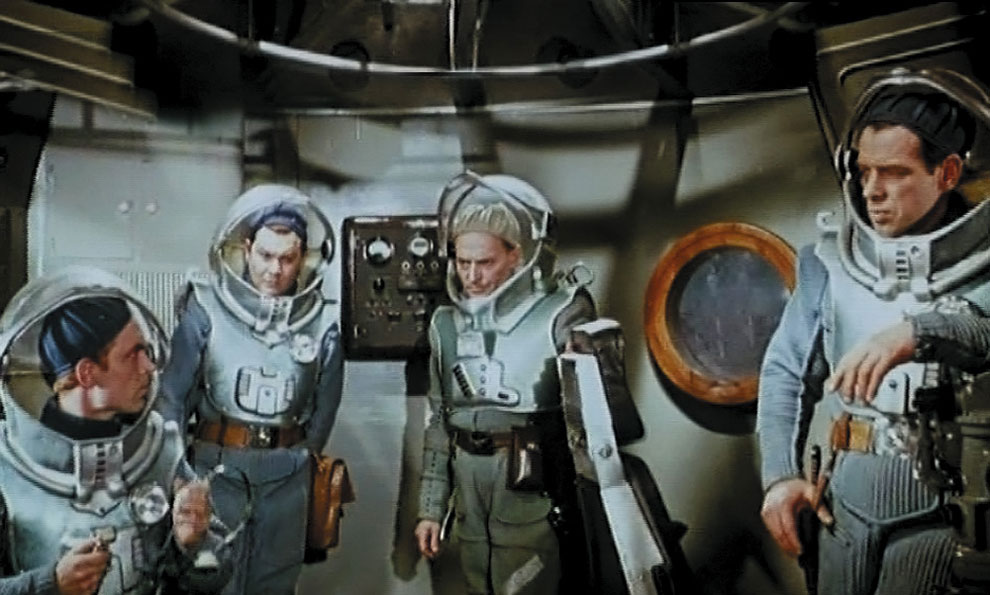 A media tarde vemos en Retiro la opera primera por partida triple
Trivisa
(Frank Hui, Jevons Au y Vicky Wong, Hong Kong),
apadrinada por alabado director y productor Johnnie To (
Election
, Hong Kong, 2005), ubicada en la sección
Òrbita
. Pero ninguno de estos datos hacen que veamos la película con otros ojos. Estamos ante una de los visionados más tediosos en festival, del cual
su premisa se alarga hasta el final y nos deja con una sensación de que, realmente, ni se ha narrado nada ni se nos han mostrado personajes
propiamente dichos. Basada en un evento ocurrido en 1997, en el cual los principales ladrones organizados del país estuvieron apunto de trabajar juntos,
Trivisa
cierra nuestra tarde como un thriller anti climático.
Vamos a cerrar la noche con otra de la
Secció Oficial Fantàstic Competició 49
:
Gokseong/The wailing/El extraño
(Na Hong-jin, Corea del sur). Su duración de tres horas y cuarenta minutos nos asusta. Mientras la vemos, sus cambios de género nos marean pero la ambientación nos sobrecoge. Pasa una hora y sabemos poco sobre lo que realmente está ocurriendo. Pasa otra hora y seguimos o igual o más confundidos. A ratos estamos cansados, a ratos tenemos miedo. La película termina y sentimos algo que muy pocas producciones han conseguido:
Sentimos que Él nos ha engañado
. Entendemos por qué, pero es tarde para rectificar en nuestra opinión. Lo ha conseguido, probablemente una vez más, y nos retiramos derrotados mientras aplaudimos.
A todo esto, se ha presentado la esperada restauración de
Phantasm
(Don Coscarelli, Estados Unidos, 1979). Dominic Monaghan (
The Lord of the Rings, Lost
) ha llegado para presentar
Pet
(Carles Torrens, España y Estados Unidos). Nos hemos perdido otra
Seven Chances
,
In a valley of violence
(Ti West, Estados Unidos), y estamos tristes por ello. Paul Schrader recibe el premio
Màquina del temps
, Ruggero Deodato (
Cannibal holocaust
) la
María Honórifica
y
Terele Pávez (
El día de la bestia)
el
Premi Nosferatu.